Sun Koshi Trip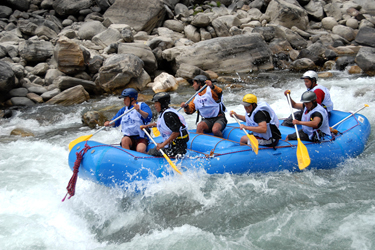 This River is the longest in all Nepal. This 8/10 day trip gives you class 3/4 rapids followed by exciting class 5 runs that are sure to get your adrenaline flowing. This is a classic camping trip which gives you a chance to paddle all the way from the far north of Nepal to the southern border. It is also one of the top 10 river journeys in the world. Every day enjoying different scenery while camping. A Safety-Kayak will act as a chase boat.
Highlights:
8/10 day
Fast flowing
Expedition type 4/5
Best Sept-May.
Put-in Dolaghat (Friendship Highway), terminus Chatara. Tented camping.
Round trip transportation of your choice (see supplements).
Special Note: Generally rafting trips start every day after breakfast from the camp site, lunch breaks are on the way and finally we will stop at the next campsite in time to prepare properly according to daylight conditions or activity level demands. A one (1) day trip typically starts by noon and ends by 3pm in order to transfer back to point of origin.