Jungle Safari in Nepal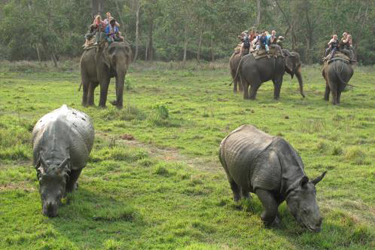 Jungle Safaris in Nepal can be a great adventure alone or customized to work with different activities such as trekking, rafting, or city tours. Let Zen Adventure be your guide to the sub-tropical jungles of southern Nepal. We offer jungle packages that include transportation, accommodation, and a variety of jungle activities including elephant ride, jeep safaris, bird watching, canoeing and nature walks. You might even have the thrill of catching a glimpse of the elusive Royal Bengal tiger. Nepal has some of the best national parks in Asia where rare wildlife can be observed in their own environments.
The warm subtropical Terai region of Nepal houses such animals as Royal Bengal tigers, rhinos, leopard's wild elephants, sloth bears, monkeys, crocodiles, four kinds of deer and over 250 species of exotic birds. The Terai region is home to the Chitwan and Bardia national parks. These wildlife parks were established to protect these endangered animals and the environment they live in. They are the premier places in Asia to enjoy a true jungle experience. Our packages include everything from jungle activities to accommodations to transportation to and from the parks.
We also have trips to: Koshi Tappu Reserve in Eastern Nepal on the road to Tibet and Suklaphanta Reserve in the extreme south west of the Terai. Just use our 'CONTACT' page and we will take care of all details and get back in touch with you. So come join us on the ultimate Nepal Safari.
Some Jungle Safari Highlights:
Entrance to National Parks
Ox Cart riding
Elephant Back Safari
Jeep Drive inside park
Elephant Herd/Breeding Center visit
See wildlife in nature such as the 'Horned Rhino'and Royal Bengal Tigers
Experience the unique traditions and culture of theTharu people
Boating or Canoeing Trip
Elephant Bath activities
Bird Watching
Nature Walk
Tharu Stick Dance or Cultural show
Flora and Fauna AV presentations
Most popular Jungle Safari in Nepal packages