Rafting in Nepal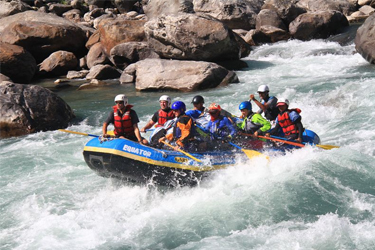 When you think of Nepal what do you think of? The Himalayas, Hindu Temples, and Trekking? However as a result of these tremendous mountains and glaciers there are breathtaking waterfalls leading into kholas and modis (rivers) which offer some of the best rafting in the world. The combination of mountain scenery, exhilarating rapids, warm water, and fascinating cultural opportunities make Nepal one of the premier places to go white water rafting. Zen Adventure Nepal offers fun and exciting rafting trips on the best rivers in Nepal. The best time for rafting in Nepal is usually September to early December and March to June. This is when the weather is best and the water is the warmest.
Zen Adventure Nepal runs two different types of river trips depending on how long you want your trip to be and what river you want to raft. The first type is a day trip on the river. We provide transportation to and from the river as well as a full day of rafting. This is the perfect trip for anyone who wants to get a feel for white water rafting or doesn't have time for an overnight trip. Generally we run most of our day trips on the Trishuli and Bhote Koshi rivers.
Our second type of trip consists of several days of rafting while camping overnight next to the river. This gives you plenty of time to swim and relax on some of the white sand beaches on the river. We have porters to set up camp and a personal cook who will prepare your meals. Camping trips require a minimum of 6 to 8 clients in a group. During high season we have many trips leaving several times a week so it isn't hard to find a group. And like every Zen Adventure Nepal trip, we want to provide you with the vacation of a lifetime so tell us what you want. We can combine rafting, trekking and jungle adventures (or both if you wish.)
River Rating System
You can choose the intensity of the trip. We can go from rafting to pure white water rafting. We use a rating scale of 1 (easier) to 6 (most difficult). A number 1 rating is a relaxing river, easy, winding and no obstacles; a number 5 river however has prolonged sections of rapids and drops which require strong paddling and preferably some rafting experience. Rafting in Nepal is fast becoming one of the most popular adventure trips in Nepal. It is a paradise for river runners and beginners alike.
Most popular Rafting in Nepal packages