About Us
Zen Adventure Nepal Treks & Expedition is fully approved and license Holder Company under Ministry of Tourism, Government of Nepal. The company is fully equipped with all trekking equipment's. All possible communication facilities such as fax, e-mail, internet, ISD, facilities are available within the company.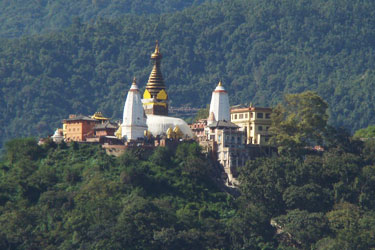 We are specialized in adventure travel/Trip, offering a wide range of services such as mountaineering, Trekking, Tours, Jungle Safari, Hotel reservation, Air ticketing and Transportation. If you are looking for exciting travel experiences that combine activity and interaction with local cultures then check us out. We worked with many international partners and have made our tours easily accessible to all people with We feel a great pleasure to arrange different trips that would suit you the best. We guarantee you the best service at best possible. No matter wherever are you from our attempt always goes on to fulfill your desire. We are registered with all the government associates such as Ministry of Tourism, Nepal Central Bank, Company register's office and Tax office. We are an active member of Nepal Tourism Board (NTB), Trekking Agencies Association of Nepal (TAAN) and Nepal Mountaineering Association (NMA).
We are environmentally conscious & committed to trekking in a way that does no harm to the local environment. An adventure is not only for the present but for the future as well. Our guides and porters are aware about current environmental problems and are experts at conducting eco-friendly operations.With camping groups we always carry Kerosene or Gas stove, so that no local wood need to be used to cook. Naturally, to maintain our high standard, we have a dedicated team of experienced staff, from the office managers who arrange your trip right down to the cooks that prepare your food! Travelling in Nepal".
Major Tourist Attractions "Very few countries in the world offer as many varieties of adventure travelling as Nepal. Of the 14 peaks above 8000 meters in the world eight are located in Nepal. It is the land of Sagarmatha (Mount. Everest, 8848 meters), the highest peak in the world For those who don't like to climb there are mountain flights which fly around the Mount Everest and provide a close look of the top of the world. Also from Nagarkot East of Kathmandu and Daman south-west of Kathmandu one can have a distant view of the beautiful Himalayan ranges. Trekking is the best way to get to interesting and remote mountain villages of Nepal and to enjoy views of the famous peaks together with their lifestyle untouched Read More.