Peak climbing in Nepal
Peak climbing in Nepal Himalayas is a dream of the entire adventure lover. With world's most of high mountains and more than 1300 snow capped peaks, Nepal is rightly the most popular destination for mountaineering expeditions. After the first ascent on Everest in 1953, people knew more about amazing climbing opportunities in Nepal.
The peaks we are talking about are not Everest, Cho Oyu or the Manaslu or Lhotse but peaks with lower height and easier climbing. Often these peaks are referred as "trekking peaks of Nepal" by some western writers as most of them can be combined to your trek to Everest, Annapurna or Langtang region. However "trekking peaks of Nepal" is a misguiding and romantic phrase. Almost all these peaks are higher than the highest mountains in Europe, USA and Africa. Some of them do require technical climbing skill and only professional climbers should attempt. However some others can be climbed by first timers with good fitness and basic climbing skills.
Nepal Peak climbing Packages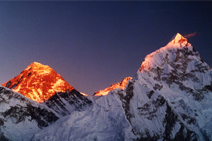 Island Peak Climbing
Nepal Trekking is a team of website designers and specializes in Web Design, Web Development, Search