Seti River Rafting Trip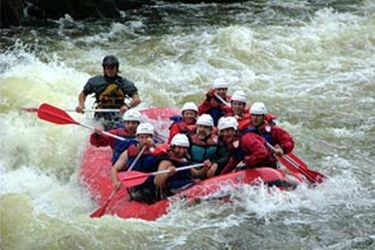 The Seti River is a smooth water rafting journey with warm pleasant water. This trip is a highly suitable trip for families with children. It is also one of the best kayak Clinic Rivers for beginners. It has a moderate flow and small rapids. Seti River rafting also can be run during the summer season because during this time river volume goes up and the rapids can become more challenging (take your pick). It is always a suggested beginner rafting trip in Nepal and also for those who like a calm flow. This river has beautiful jungle corridor scenery and many 'locals' to visit with along the way.
Highlights:
Everyday on request
2 days, smooth flow, 2/3 class.
Tented camping, great family fun, relaxing, beautiful scenery.
Best Sept-May. Put-in at Damauli, terminus at Gaighat.
Transportation type (to and from launches) per your request.
Special Note: Generally rafting trips start every day after breakfast from the camp site, lunch breaks are on the way and finally we will stop at the next campsite in time to prepare properly according to daylight conditions or activity level demands. A one (1) day trip typically starts by noon and ends by 3pm in order to transfer back to point of origin.