Kali Gandaki Trip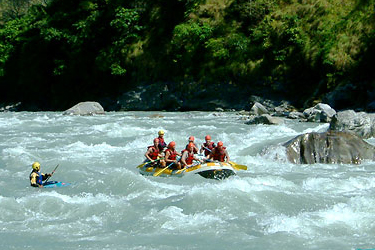 This is a fun and challenging river. It is considered to be one of the holiest rivers in all of Nepal. Many villages and temples can be found along the entire trip; offering you a wonderful cultural view of rural Nepal. It is a class 3/4 river which is a bit more challenging and continuous than the Trishuli. The Kali Gandaki trip begins in Nayapul (Pokhara) and returns from Pokhara. Kali Gandaki rafting offers you some of the best white-water experiences in Nepal and it is 3 days of perfect white-water runs. Our guides are experienced rafters who have run all the rivers we offer and have the skills to provide you with a safe and enjoyable trip. There will always be a guide in every boat who will give instructions on paddling and pick out the safest route on the river. There will also be added safety precautions taken; each and every trip is followed by a Safety-Kayak acting as chase boat.
Highlights:
Any day departure
3 Day trip
Class3/4 River
Best Oct-May
Nayapul to Mirmi Dam (see map), Tented Campsite.
Transportation to/from Kathmandu: Tourist Bus or Flight per your request.
Special Note: Generally rafting trips start every day after breakfast from the camp site, lunch breaks are on the way and finally we will stop at the next campsite in time to prepare properly according to daylight conditions or activity level demands. A one (1) day trip typically starts by noon and ends by 3pm in order to transfer back to point of origin.