Bhote Koshi Trip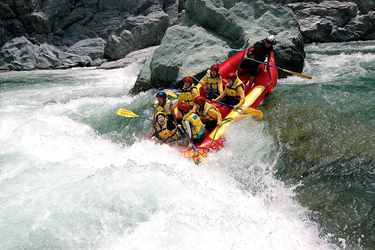 This is a short 1 or 2 (2 is much better) day trip but it is not lacking in excitement. This is the steepest river run in Nepal that provides a total white water experience. It is an adrenaline river with a lot of class 3/5 rapids. It is located 3 hrs. outside of Kathmandu and is a great day trip. It is also possible to spend a night on the river camp. Simply put this short river journey lets you run some of the best technically challenging rapids available. World class rafters practice here. The Bhote Koshi River is a down flow from Tibet and it is locally known as Bhot, hence the name, BHOTE KOSHI.
Highlights:
Runs every day
very popular
Tented camping
put-in and terminus on Friendship Highway with Tibet.
Best Sept.-May, total white-water! Are you ready? It's a full-on commitment today.
A Safety-Kayak will act as a chase vehicle for the entire run.
Special Note: Generally rafting trips start every day after breakfast from the camp site, lunch breaks are on the way and finally we will stop at the next campsite in time to prepare properly according to daylight conditions or activity level demands. A one (1) day trip typically starts by noon and ends by 3pm in order to transfer back to point of origin.